Factors including links to organised crime and a victims' view of their safety will be taken into account when courts are deciding whether to grant bail to accused criminals under changes signed off by state cabinet in response to fury over controversial recent decisions.
The changes, to be announced by Attorney General Brad Hazzard on Tuesday, will also include a revised test meaning an accused person who is assessed as an "unacceptable risk" will be refused bail. For serious offences, the onus will be on the accused to "show cause" that their detention in custody is not justified.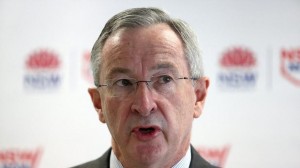 Attorney-General Brad Hazzard
A serious offence will be defined as including the sexual assault of a child; use of a firearm; manufacture or supply of commercial quantities of a prohibited drug; serious personal violence; that the alleged offence was committed while the accused was on bail or parole; or that the alleged offence carries a potential life sentence.
The "common law presumption of innocence" will be acknowledged in a Preamble to the Act, rather than as a "purpose" of the Act. It will supplement considerations such as protection of the community and protecting the integrity of the justice system.
The changes were recommended by former NSW Labor attorney general John Hatzistergos who was commissioned to carry out a review of the new bail act by Mr Hazzard last month. At the time Mr Hazzard said the review was aimed at ensuring "the safety of the community, victims and witnesses is at the forefront of all decisions made on bail".
It followed an outcry over controversial decisions to release on bail the accused murderers Steven Fesus and former Comanchero bikie boss Mick Hawi under a revised version of the bail act which came into force on May 20. The new act replaced the presumption against bail for serious offences such as murder with a broad consideration of whether the accused posed an "unacceptable risk" of re-offending.
Leading figures in the legal community slammed as politically motivated the decision to review the NSW Bail act just a month after it had come into force.
On Monday night Mr Hazzard said the changes are modelled on the Queensland and Victorian bail acts, both of which have risk assessment models.
"These are commonsense changes that should reassure the community that the new bail laws are doing precisely what they were intended to do, which is to place the potential risk to the community posed by an accused offender front and centre of the justice system," he said. "The existing system will not be diluted. It will be enhanced by these changes.
"Under the changes recommended by Mr Hatzistergos, there has been a recalibration of unacceptable risk. Where the consequences of the risk are significant, they are given greater weight, even where the likelihood of the risk materialising may be small. "The assessment of 'unacceptable risk' will now include any conditions that could be placed on an accused offender's bail – meaning bail will be refused in cases where unacceptable risk is determined."
Mr Hazzard thanked Mr Hatzistergos for his "excellent work" and has asked him to continue to monitor the act and provide an updated report in June next year.
Critics of the new act had called for it to be scrapped, but a source close to Mr Hatzistergos's review said it "wasn't a wholesale shredding of the act".
Original article by Sean Nicolls appeared in Sydney Morning Herald Aug 4, 2014