NSW SUPREME COURT DECISION- 26 JULY REGARDING
DAVID DUNGAY JR PROTEST ON TUESDAY 28 JULY 2020
O'Brien Criminal & Civil Solicitors instructing Ms Felicity Graham, barrister, have litigated against the NSW Police Commissioner's attempts to prohibit the Justice for David Dungay protest.
MEDIA RELEASE STATEMENT FROM MR PAUL SILVA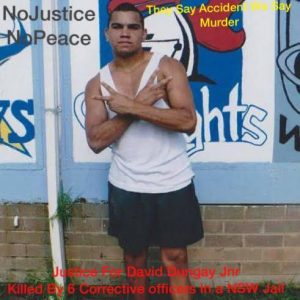 "Me and my family are disappointed about the outcome of the court hearing today but we will be appealing the decision to the Court of Appeal as we won't stop until there is justice for my Uncle's death.
Safework NSW and the DPP won't even investigate whether charges should be laid. How would you feel if these government officials wouldn't even lift a finger to investigate whether there should be charges following David's death?
Remember that the Coroner said there was NO reason for anyone to go into David Jr's cell that day and assault him.
The Police say they want to shut us down because they are concerned about peoples' lives but they don't care about black lives, are we not humans too?
Under the protocol for investigation and cooperation between agencies following a serious workplace incident, the Police Commissioner could work with the DPP and Safework NSW to investigate my Uncle's death and they could investigate whether charges could be laid – but they are refusing to do that. 
The Commissioner isn't interested in investigating my Uncle's death, all he wants to do is to shut me up and silence black voices. To stop us complaining about the way we are treated.
I tell you what, if the Premier can commit to asking Safework NSW and the DPP to investigate whether charges can be laid in relation to my Uncle's death I'm sure that we can put off the protest.
I would like the Premier to confirm that Black Lives Matter in NSW by asking for that investigation, if she refuses then it just goes to show that no one cares about our lives and we will see you on Tuesday."
For more information, please contact Peter O'Brien on 0421 373 961 or O'Brien Criminal & Civil Solicitors on (02) 9261 4281.