Facts – Break and Enter Bail application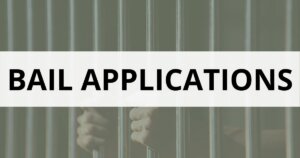 SB had been charged by NSW police for committing a specially aggravated break and enter.  The offence carries a maximum penalty of 25 years jail.  A standard-non parole period of 7 years is applicable to this offence.
The Crown case against SB was that he broke into a house with another person and inflicted violence upon that person whilst ransacking the house for money and drugs.  SB's fingerprints were found at the scene. SB applied in the Local Court for bail and was refused.  A Supreme Court bail application was lodged.
Held
After giving evidence in the Supreme Court about his background and preparedness to do drug and alcohol rehabilitation, the Supreme Court granted SB bail on strict conditions.  The conditions included that he attend a drug rehabilitation centre and that he would report to police by telephone on a regular basis.
Testimonial
"Thank you Peter for getting my son out on bail. His time in custody has been so hard on him and on the family. We are so appreciative. This has given him the chance to turn his life around." SB's mother
If you are arrested and needing to make a bail application, contact O'Brien Criminal and Civil Solicitors on (02) 9261 4281 24 hours a day, 7 days a week to get help from one of our bail lawyers in our Sydney office.